What Is a Motor Pasta Machine?
Views:211 Author:Site Editor Publish Time: 2018-09-21 Origin:Site
A Pasta Rolling Machine is used to roll pasta dough into thin sheets of pasta. The Pasta Machine may be a motor-driven machine or a hand-cranked machine that rolls out the dough, stretch it and then cuts it to size. Larger Pasta Machines are made to mix and extrude dough that will be formed into shaped pasta, however, those are more common in commercial use.
Most often the Pasta Machine is made of stainless steel which encloses a set of rollers through which the pasta dough is rolled. As it passes through the rollers, the machine flattens or stretches the pasta, depending on the setting selected for the thickness, creating a thin or a thick strip of dough to be formed into the pasta desired. The machine may also have attachments for cutting various sizes of pasta strips into noodles, linguine, fettuccine or other kinds of pasta.
When adjusting the thickness of the dough as it is rolled, if it is made too thin it will not cook properly and will become mushy instead of delicately textured so it is important to understand the machine processes in order to roll the pasta so it provides the results desired.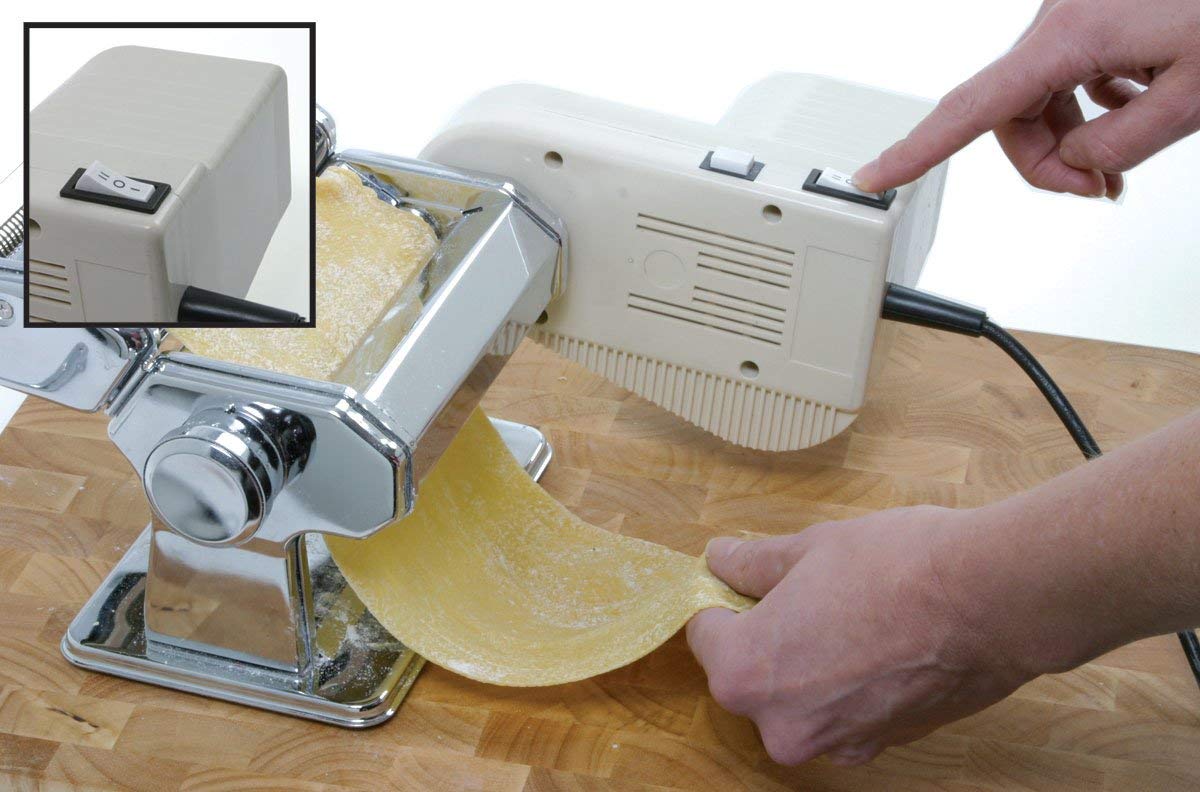 Pasta machines provide a means to produce a fresh, textured and exceptionally flavored product, once the art of producing pasta is mastered love home. Adding this motor allows you to use two your both hands to catch the flat wide noodle as it comes out of the machine. This means you can make you I can make a really long noodle much faster and perfectly.
The Advantages A Motor Pasta Machine
· You have both hands free during use.
· You don't have to attach the machine to a work top.
· You can easily place the machine on any flat area.
· This motor helps to efficiently reduce the preparation time of the pasta sheet.
· Using the motor pasta machine is the most recommended method or solution to quickly prepare home-made pasta.
· The motor pasta machine is made from quality chrome steel and anodized rollers. These metals incredibly boost the machine lifespan and durability of the machine.
· The Pasta drive motor has a unique built shape that makes it easy to hold, hence, guaranteeing stability during use. The bayonet fitting makes it easy to couple or dismantle the motor and use it with other compatible products.