The Noodle Making Machine: Its Principle of operation and Application
Views:68 Author:shangbaotai Publish Time: 2019-01-07 Origin:Site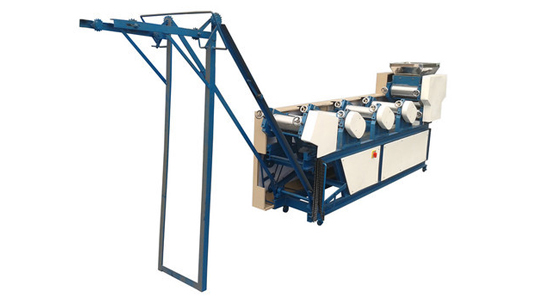 The purpose of homemade Noodle making machine is to assist a cook in the production of pasta of all kinds. They generally combine a roller mechanism for stretching the dough and another punch mechanism. The rollers allow a sheet of dough to be thinned to the desired thickness. The punch mechanism allows the thinned sheet to be cut into the desired shape, for example, a spaghetti. This type of machine is suitable for the production of flat pasta, such as lasagna, fettuccine, and spaghetti. These machines are generally used at home, but it is said that some chefs use them in high-end restaurants.
The process
Making pasta with such a machine still requires a certain amount of effort. On the one hand, it is necessary to make a dough by hand, and to spread it with a rolling pin, a little like you would do for pie dough before you can use the machine. In addition, it is necessary to perform several iterations in order to thin the dough. Without this type of machine, however, it would be almost impossible to make certain types of pasta at home. Finally, if dry pasta is prepared, a drying step must be added. Drying takes several hours and can take up a considerable amount of space. In addition, like any other kitchen instrument, these machines must be cleaned. Cleaning can be complicated by the fact that the machine does not have to be cleaned with soapy water and has several moving parts in contact with the dough.
This type of machine can be found mainly in kitchen accessories shops. It is rarer to find them in big-box stores. A multitude of accessories can be purchased to complement a machine. Most of them are substitute punches for the one supplied with the machine and are used to make a multitude of different pastes.
Advantages:
This machine adopts the latest technology and seizes the international trend of this kind of product, it hot-had sold not only in China but also Southeast Asia and neighboring country.
High automation can make sure one man control several machines at the same time.

It is ambient and healthy.

High cutting efficiency and low defect rate.

It is convenient, stable, safe and easy to operate.
The price range for these machines is very wide, from about $25 for entry-level models to about $150 for high-end manual models, and up to $1000 for some models with electric motors. The price of the models available in the store would rather vary between $50 and $150, the machine remaining essentially the same, the price difference being justified by the different equipment provided.
Main manufacturers
There are a few manufacturers of high-quality pasta machines. These machines are both made in Europe as well as a few other countries. These companies continue to innovate based on the fact that they continued during the 2000 decade to obtain patents on respective improvements to their machines. Today in Asia, there are Chinese manufacturers of pasta machines and other kitchen instruments.
Extrusion machines
Extrusion pasta machine dies.
Another type of machine that works more by an extrusion process: the dough is forced through a die. This type of machine makes it possible to obtain hollow pasta such as macaroni or twisted like rotini.