6 of the good Instant Noodles Making Machine
Views:225 Author:Site Editor Publish Time: 2019-12-04 Origin:Site
The noodles are so popular across the globe. Whether you are a child or an adult, you will surely love to eat noodles. For the increasing demand for noodles, the noodle market is expanding to a great level. However, some small companies are making use of the semi-automatic instant noodles making machine while the big guns are using fully automatic.
If you want to go for this machine, then you have to pick the fully automatic one. It is more efficient and has great productivity level. Nevertheless, the automatic noodles making machine price is expensive as compared to the semi-automatic. Still, it is a one-time investment as it can work well for years.
6 of the Good Instant Noodles Making Machine
When it comes to the instant noodles making machine, then you will have to choose from a big range. There is diverse machinery readily available at specific rates for you. At present, we are going to tell you about 6 of the good instant noodle making machines.
1. Flour Supply System
This flour supply system contains screw conveyer and screening equipment. It has a unique automatic flour supply mode which is demanded by many suppliers. It can remove the sundries from the flour and incorporates whole-process monitoring. So, the labors are not required to monitor the working of this equipment.
2. Horizontal Type Flour Mixer
This automatic horizontal type flour mixer can process 400 KG of flour each time. It contains well-designed mixing blade and has a double-shaft operation mode. There are diverse modes featured in it like direct detection mode, manual operation mode, and human-computer interface operation mode.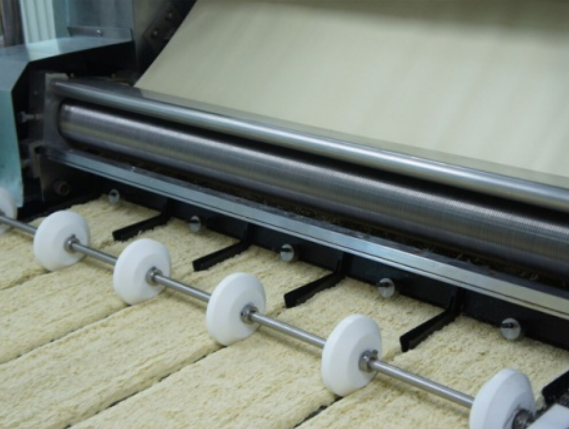 3. Continuous Flour Powder Mixer
The continuous flour powder mixer is another amazing machine. This noodles manufacturing machine price is reasonable. It does not consume too much energy. It can easily work by consuming 20 kW of power. The water supply maximizes up to 3 percent. The flour and water mixing is not just uniform but continuous as well.
4. Paste Conveyor
The paste conveyor is an energy-efficient noodle making machine. The noodle making machine suppliers are offering it at great prices. This conveyor can convey the paste without water desorption. It can balance the moisture content into the paste. Moreover, it can improve paste uniformity.
5. Compound Calendar
This equipment is of great strength and efficiency. There is a PLC system present in it which adjusts the tension of the noodle piece into proportion. It is simple to adjust the parameters with the help of the humanized human-machine interface. The compound calendar works at a low speed to facilitate the piece of noodle and automatically functions with the rear section.
6. Personalized Noodle Slitting Machine
The personalized noodle slitting machine has a noodle cutter which works automatically. It can easily cut out the noodle pieces into equal and smooth form. This instant noodles making machine has a stable wave generation, which makes it stand out. It does not let the noodles to stick to one another. The scrapping rate of this equipment is low. Moreover, it improves the taste and looks of the noodles.